THE BODWEN NURSERY
Janpanes Maples
Japanese maples, varieties of Acer palmatum, are ideal plants for any garden or patio, from dwarf forms to magnificent specimens of trees and shrubs. Autumn colours of every conceivable shade of red, pink, orange and yellow are complemented by superb spring displays lasting several months and eclipsing most garden plants. Grafted maples provide an almost limitless choice of size and form, colour and leaf shape. They fit in well with any planting scheme, from container plants in a small courtyard, weeping forms cascading over ponds or planters, entire borders or shrubberies, strong eyecatching architectural shapes, to focus plants in lawns or the landscape. The flexibility of Japanese maples, being tolerant of most garden conditions, make them eminently suitable for any garden design and their use is limited only by the imagination.
Please take your time and enjoy this site, dedicated to bringing you the best Japanese maples available. Many more cultivars than those listed are contained in the nursery collection and if you can't see a plant you want it will almost certainly be added to the site once stock plants have been bulked up. This is intended to be the primary contact point for the nursery and if there are any features you would like to see in future editions don't hesitate to contact me.
John Geraghty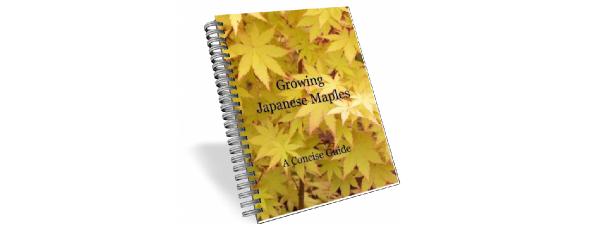 Ordering
Due to other commitments and circumstances beyond my control, the mail order facility has been temporarily suspended. Hopefully I shall have a more positive announcement to make next year. My apologies for disappointing old and new customers.
Cultivars
If you know the cultivar name you're looking for, clicking a letter in the alphabetical listing at the bottom of this page will take you to all cultivars beginning with that letter. Alternatively, click on A to start browsing through the entire catalogue. Clicking on the highlighted cultivar names will take you to an illustration of that cultivar; either a close-up of the leaves or the whole plant. Not all of the illustrations show the spring colour and these will be amended next spring. Pictures of those cultivars not yet illustrated will also appear at the same time.
COLOUR ACCURACY
Describing and illustrating leaf colour is always going to be somewhat subjective as colour intensity is entirely dependent on light levels. Many of the illustrations here are of plants grown under glass or polythene and growth starts very early in the year when light levels are low. Furthermore, the light transmission of polythene is lower than glass and the colour spectrum is different. When planted out in the garden or growing in containers out of doors colour will be more intense and held for longer as plants will come into growth later and take advantage of higher light levels. It should be pointed out that, in northern Europe in general and the U.K. in particular, it is impossible to give a Japanese maple too much sun.
CULTIVAR CATEGORIES
All cultivars have been assigned to a particular size range as "how big will it get?" is usually uppermost in many people's minds. The size range for each group is an indication only as soil fertility, moisture levels and position all affect the rate of growth. The same cultivar will also produce a larger plant when grown in the ground compared to a containerised version. In addition, pruning, to which all cultivars are amenable, can be used to control height and spread: during a plant's early years this can be especially useful.
SMALL covers from 4 to 8 feet and cultivars in this group are ideal candidates for confined spaces and patio plantings. Within this group the witch's brooms are particularly well suited; two or three feet of growth in the first few years and all subsequent growth then fills the plant out.
MEDIUM is up to 12 to 15 feet but would generally take at least a dozen years or more to reach half that size and are therefore suitable for even the smallest garden.
LARGE will get up to 25 to 35 feet and some thought should be given to their siting although their ultimate height will not be reached for at least one hundred years. Cultivars in this group are ideally suited to producing good-sized specimens in a short time before gradually slowing down. Even if left unpruned, they are still not so big that they cannot fit into the average suburban garden. As an aside, many flowering cherries, magnolias and rhododendrons on sale at most garden centres will outgrow the majority of Japanese maples.
DISSECTUM cultivars in this catalogue are mostly low growing, being wider than tall. A few exceptions, of medium or large size and generally of upright or shrubby habit, are mentioned in the relevant descriptions.
Growing Tips
Introduction
Growing Japanese maples is surprisingly easy, whether in the ground or in containers and caring for them is simple and straightforward. No distinction need be made between caring for a red Japanese maple, a dwarf Japanese maple or any other type; they all have the same care requirements. Providing they have a balanced and natural growing medium, their fertilizer needs are minimal and have only modest, and consistant water requirements that are easily achieved.
Major pruning can be undertaken without any worry of damage and trimming during the growing season can also be helpful in controlling shape and size. Transplanting, even of older trees, can successfully be done at the right time of year with the correct planning and moving from container growing to open ground cultivation is a simple task that requires no excessive preparation.
Pests are mostly absent from a healthy, vigorous Japanese maple and this applies equally to fungal infections. A drying up, dying or dead tree, particularly if it happens shortly after you've bought it, is rarely the fault of the gardener as symptoms don't happen overnight, but with the correct advice and care most can be brought back to health.
Fuller details of caring for, pruning and all the other information to grow Japanese maples well can be found in the cultivation section.
If you are looking for information on grafting Japanese maples there are a number of articles in the propagation section if you fancy having a go!
The first article is written by and reprinted by kind permission of Ken Tilt, after whom the palmatum cultivar Dr. Tilt is named and is a description of the method used by Harold Johnston. Harold has been propagating for more years than most of us and is responsible for introducing numerous outstanding cultivars; Abigail Rose and Beni shi en being two of many.
A second article on budding and grafting woody plants has now been added. Many of the techniques described are applicable to Japanese maples. This article is reprinted by kind permission of R E Bir and T E Bilderbeck; Extension Specialists, Nursery Crops and T G Ranney; Assistant Professor, Horticultural Science, North Carolina State University, College of Horticulture and Life Sciences.
A grafting slideshow and faq has now been uploaded and the sequence of events illustrates the entire process of producing a new plant. The method shown is probably the most widely used in commercial production and lends itself to both winter and summer use. The text and illustrations have been reproduced by kind permission of Dr. William B Shell.
Information specific to summer grafting has been uploaded and a further slideshow has been uploaded illustrating an alternative method to the traditional side veneer graft. A Grafting Aids section has been added and this contains information on tools and other subjects of interest to the propagator.
It might seem odd for a Japanese maple nursery to be giving away the tricks of the trade as it were, but most of the information is already on the internet; it's just a question of finding it. By gathering it in one place it might encourage the enthusiastic amateur to introduce something distinctly different: there is still no variegated linearilobum on the market! Some illustrations of possible future introductions can be found here and there are probably many more waiting to be noticed in a corner of someone's garden. I will also put all the articles together eventually as a .pdf file for those of you who might want an easily printed reference.
There is also the possibility of producing new cultivars in the laboratory where greater control over the required characteristics can be achieved. The process, known as somatic embryogenesis or protoplast fusion, aims to join the cell nuclei of two or more separate cultivars to produce a brand new cultivar that is then grown on in vitro. My own experiments nearly thirty years ago, using enzymes used in Heinz baby foods to break down the cell walls prior to fusion, resulted in predictable faiure although I did develop a taste for stewed apricots and rice! The technology then was back of the envolope stuff although huge prizes were on offer in the orchid world for the first un-related bi-generic hybrid. The technology has now become quite sophisticated and is routinely used on a wide range of trees and shrubs.
Also to be added shortly to the cultivation section will be articles on pest and desease control without chemicals and better compost. Essential information on better compost can now be found here. A small sundries section will also be placed here in time for next year's growing season. This will contain items that are used at the nursery in the production of Japanese maples such as rock dust, Azotobacter and Trichoderma and which can be of benefit to gardeners. A directory of sources of propagating equipment and supplies for USA and UK gardeners will be uploaded soon.
Finally some inspiration! The two illustrations below are of plants that are well over 100 years old and are as vigorous now as they were in the nineteenth century. The photographs were taken in late summer, by which time the red of the early part of the season had faded to bronze. When these were planted the range of cultivars available was nothing like it is today and good red forms were non-existent. The tree in the centre of the right-hand illustration is in a steep valley and the photograph was taken looking down on it; its size is not immediately apparent but is approximately 45ft. tall and and slightly less across. The cultivar in the foreground is Katsura, one of a number of plants grown by me for this garden; 12ft. wide and 8ft. tall and, at 17 years old, a mere sapling! The plant in the immediate left foreground is Karasugawa, a cultivar that apparantly shouldn't be grown in full sun. Behind Karasugawa and slightly to the left is Seiryu; planted on a steep slope at the same time as Katsura, it is now as high as Katsura is wide. The lack of some leaves is due to the shoots being knocked against the spiked plant alongside. A larger picture can be seen by clicking on each illustration.


Cultivation
Growing Japanese maples well should be a simple task, given that they grow happily and abundantly over a wide geographical area in the wild. That it often isn't, and results may be disappointing, can be directly attributed to the contradictory information that surrounds this group of desirable plants. Die-back and burnt leaves in summer are not natural states; they don't need to occur in your garden either and are easily preventable.
'The Cultivation of Japanese Maples' by the late George Lamble has now been withdrawn and a comprehensive guide to growing Japanese maples has now been published on DVD. The first volume in the series, on container cultivation, is now available at Growing Japanese Maples.
Japanese maples are premium plants and losing one because of misinformation can be expensive and frustrating. This new and unique range of videos will equip you with all the information you need to grow Japanese maples successfully. For a full description of the contents and to see preview clips, visit Growing Japanese Maples
Propagation
SUCCESSFUL JAPANESE MAPLE GRAFTING: FROM A GRAFTER'S APPRENTICE
Dr. Ken Tilt
The following article comes from information I presented at the Southern Region International Plant Progagator's Society meeting in Tulsa. Japanese maples are one of my favorite plants in the landscape. In the article, I am sharing information about propagating this plant. It was passed on to me in the true tradition of the IPPS motto "Seek and Share" by Harold Johnston. A design for a grafting table that we use and find very helpful is pictured at the end of the article.
INTRODUCTION:
Japanese maples are among the aristocrats in our landscapes. We often consider them as status symbols in our yards. When a plant reaches this level of celebrity, it allows nurseries to get a little added value for their efforts. Japanese maples seldom fall into the category of hollies, junipers or azaleas. These plants are often specified by the hundreds by landscape designers. Typically Japanese maples are specimen trees or shrubs with only one or two plants specified per landscape job. However, with some additional marketing and landscape demonstrations, mass planting of 'Tamukeyama' or 'Waterfall', a screen row of 'Moonfire' or a small border hedge of 'Shania' could be a possibility. Like many of our other plant groups, there is probably a Japanese maple with a form, texture, size, color and site tolerance to fit almost any landscape requirement. There are opportunities for imaginative, artistic nursery producers to create some unique plants by training limbs into artistic forms or using the vast array of cultivars to select plants to put on standards such as 'Shania' or 'Koto no hito'. Opportunities also exist to develop container gardens with Japanese maple cultivars as the center of attention for patios and business entrances. Production of bonsai plants is also a possible niche.
The toughness of Japanese maples belies its price. They are very drought tolerant when established with few insect and disease problems. Most Japanese maples do not do well in wet sites and many cultivars suffer in the South when planted on southern or southwest exposures. This paper is about propagation of these special plants with an emphasis on grafting.
This information is not my own success story but comes from my observations and view as an apprentice grafter. I have done 100's of grafts whereas the individual I worked with performs several 1000 grafts each year at his nursery and as a contract grafter for other nurseries. Harold Johnston of Johnnies Pleasure Plants, in Tallassee, AL has a small back yard mail order nursery with a collection of close to 300 cultivars including a recently patented cultivar he released under the name of 'Beni Shien' (Purple Smoke). It is true that there is an art and science to grafting. I have learned the science at school but I needed a professional grafter and repetition to begin to learn the art and "feel" of grafting. I am not sure if the "Art" is taught as much as it is absorbed through observation and practice.
TOOLS OF THE TRADE:
The tools of the trade include a sharp grafting knife, sharpening stone, leather strap, 6" budding rubbers or grafting tape, hand pruning shears, bonsai 8" concave cutter, small cooler, 1 quart zip-lock 2 ml (2"x6" or 2"x8") plastic bags, twist ties or clothes pins, plant or pot tags, fine point Sharpie or water-proof marker, comfortable back supporting chair, work bench or grafting table and a shaded area or comfortable place to work.
A very sharp knife made of good metal that will hold an edge is crucial to get a smooth cut. Ragged cuts from dull knives can cause poor contact and graft failure. Not being a knife expert, I go to A.M. Leonard Tool catalogue (800-543-8955)and buy one of their most expensive Tina 640T grafting/budding knives ($50). This reasoning has worked well for me. Some people use razor blades and exchange the blades as they become dull. The plastic bags along with the twist ties are used to form a mini-greenhouse to cover the scion and graft, and can be purchased from National Bag Company, Inc. (800-247-6000) or Consolidated Plastics Company, Inc (800-352-1000).
The bonsai concave cutter has been very helpful in removing the understock after the graft has "taken". It allows you to make a closer, more precise cut. This tool can be purchased from John Vermeulen and Son, Inc., Neshanic Station, NJ for $35 (800-824-2306). One tool that another individual, Robert Eiland, with thirty years grafting experience relies on is a micro visor (MFD Enterprises, Kerryville TX, 800-210-6662, $35). This is a big help if you wear reading glasses and have to constantly tilt your head back to see what you are doing. It also helps with the smaller scion wood. The other items are obvious or will become apparent as the description of the process progresses.
UNDERSTOCK:
One of the first steps in grafting Japanese maples is to get a source of understock. Harold either produces his from seed or purchases liners from Heritage Seedlings in Oregon. Seeds are collected in October just as wings begin to turn brown before the seed turns brown and dries out. Seeds are placed in hot water and soaked as water cools for about 48 hours. They are then placed in Zip Lock plastic bags, labeled with date and seed name and put in a cooler at temperatures between 33° and 40° F. Stratification continues for 100 to 130 days. Seed is broadcast and planted ¼ to ½ inch deep in 2.5 inch deep trays in February and placed under mist (6 seconds every 10 minutes) in the greenhouse. Media used has been pinebark or 1:1, peat:perlite. As seedlings germinate, they are fertilized with 150 to 200 ppm of Peter's 20-20-20, once or twice per week. Seedlings are ready for transplanting by mid April and are transplanted to 4 inch or 1 gallon containers and placed pot-to-pot under 50% shade. With fertilization and care, many of these seedlings are ready for grafting by August through February and March.
GRAFTING:
Harold has tried many different methods of grafting but has settled on a side or side veneer graft on one to four year old seedlings. He has used rooted cuttings as understock but has not noticed a clear advantage over seedlings. In a survey of several nurseries in England, France, and Italy, M. Studd (1997) reported successful field and container grafts using whip and tongue, shield, and side veneer grafts with graft wax. Vertrees (1992) reported successful grafts through chip budding, patch budding and T-budding. Some Oregon nurseries graft in the field using a stick bud with 2 to 3 nodes. As with many other nursery practices, there are numerous acceptable production methods to get to the same end. The method used depends on personal preference, the market, how it fits the nursery's production system and the climate and other site conditions at the nursery.
Depending on the cultivar, Harold has found that he can begin grafting as early as late July when scion wood matures to a semi-hardwood condition. Harold continues to graft through March by using understock kept in an unheated greenhouse. Scion wood for February and March grafting is collected and submersed in water. Excess water is shaken off and put in a labeled Zip Lock bag. Scion wood can last up to two months or more in storage. Harold will often go through his stock plants and collect a hundred or more scions, stuff them in his pocket and take them to the grafting bench for grafting. I need all the insurance I can get, so I go by the book and collect the scions, put them in bags with labels and then in a cooler to take to the grafting bench. Harold's method does show that you have a large margin for error in collecting scion wood. Harold grafts on 4 inch, 1 gallon and 3 gallon understock ranging from ¼ inch diameter to 5 to 6 feet trees. The larger trees are top worked with weeping cultivars or shrub cultivars to be used on a standard. As many as 8 to 10 grafts may be used on a large, branched understock to get a well branched, quick maturing, weeping plant. Harold also creates vertical specimens by grafting up and down the stem using the same or different color and texture cultivars.
Harold's grafting is similar to textbook side veneer instructions. He locates a long, straight, smooth internode (either high or low on the stem depending on the cultivar and the desired results) and makes a shallow (15° or less depending on the thickness of the stem) 1 to 1.5 inch cut with a SHARP knife. He angles in a little at the base of the cut to get greater tension on the scion when it is placed on the understock. The cut should be done with a single stroke. Try to avoid whittling. Harold keeps his resulting flap on the understock. I like to remove about 2/3rds of the flap so that I can better view the cambium layer and align my graft. After removing all but one or two leaves from the scion, the same shallow cut is made at the base of the scion wood with an additional cut of 45° made on the lower ¼ to ½ inch opposing side. This forms a wedge to fit under the flap at the base of the understock cut. Insert the short cut side of the scion under the flap on the understock and align the scion at the edge so that the cambium matches. On large understock, the cambium layer is further from the edge. On finer scions like 'Filagree Lace', be careful to move the scion closer to the edge and not pull it out of position when wrapping.
Although grafting tapes can be used, Harold prefers budding rubbers because of the tension you can apply and the ease of removal. If you fail to remove the budding rubbers, they often rot with no damage to the graft. Everyone develops their own style of wrapping. Harold begins at the base of the graft and secures the end of the budding rubber by overlapping the end during the first 2 wraps. He then adjusts the scion and makes the next wrap at the top of the graft. This secures the scion in position. He continues to wrap down the stem with good tension until he reaches the base. I continue to wrap from the bottom to the top and adjust the scion as I go. The final tie is completed by wrapping the budding rubber over the tip of your fingernail of your index finger on the last wrap around the stem. As you complete the last wrap, wedge the budding rubber beneath your index finger and release the tension. Pull your index finger back along the stem rolling the wedged budding rubber under the portion on top of your finger. The budding rubber rolls off your fingernail and pinches the tailing end completing the tie. This is much easier done than said!
The graft is completed by taking a plastic bag, placing in over the scion and pulling it down over the graft. This is secured by a twist tie or a clothes pin. It is an extra step but pulling the bag over the scion is easier if you make a 1 to 1.5 inch slit at the bag opening. The finished grafts are placed back under the shade structure. Within 7 to 10 days it is possible to tell if the graft has taken. The wood at the graft union dries and turns brown to black if the union fails. Leave the bag on for 3 to 4 weeks. Gradually untie, then remove the bags over the next 2 weeks. If dormant, leave the understock above the graft intact to protect the graft from accidental breakage. As buds begin to swell, cut the understock with the bonsai cutter and shift the plants to a larger container. Harold, with help, can graft between 500 to 600 plants in a day and about half that number if he is shuttling all his plants and gathering his own scion wood.
GRAFTING TABLE:
Our usual method of grafting was to grab a rickity chair, put it under a pecan tree, flip over a 5 gallon paint or lard can and bring a worn-out cardboard box of assorted grafting supplies along with a cooler of scion wood. We scattered one gallon understock around the chairs to be grafted. This "system" was inefficient and hard on my back. I was always looking for where I put my knife or the marking pens. Grafted plants were mixed with the ungrafted plants. The chair was too tall for the bucket which made it hard to hold the understock at the right angle to make the proper cuts. Bad back, being inherently unorganized, and having a desire to make a day of grafting a comfortable and less frustrating experience, led to the design of a grafting table. The grafting table design is pictured below along with a new industrial, adjustable chair or stool (Global Equipment Co., Suanee, Ga., 800-645-1232, Model CG252375, $252). The cost of the materials for the table was about $70.
The table was designed for 1 or 2 people to graft at a time. The four pockets or trays in the center of the table hold your knife, sharpening stone, bags, twist ties, budding rubbers, markers and tags. The trays can be removed when you are finished grafting and stored until next time. Your leather strap is attached to the table. Cut outs in the center are placed so you can get closer to your work. The shelf underneath the table allows you to take a one gallon container and lean it against the table to give you a good 45° angle to make your cuts and wrapping easier. It also is a good place for your knife while you are wrapping the graft. Although it was not part of the design idea, the support board under the table was perfect for a footrest. The table is 42 inches high which allows you to stand up and comfortably work in this position. You can put 30 to 40, one gallon, understock plants on one side. As you finish the grafts, you push them to the finished side. If you are grafting by yourself, there is a slide bar that pulls the hard to reach pots to you. After completing the 30 to 40 pots, you shift the completed grafts to a trailer and reload the understock. If you are fortunate enough to have some help, the other individual can keep the plants moved and restocked. It is a simple system that has worked well. If you do not have a good shade tree or air conditioned room, you may need to add a large umbrella to the design.
Japanese maples are a special group of plants. With imagination, study, good marketing and grafting practice, a nice niche can be carved out for a family nursery business.
LITERATURE CITED:
Conner, Scott. 1997. Made in Japan. Amer. Nurseryman. July 1.
Studd, M. 1997. Comparison of Japanese maple production in United Kingdom, France, and Italy. Comb. Proc. Intl. Plant Prop. Soc.47:197-199.
Vertrees, J.D. 1992. Japanese Maples. Timber Press, Portland, Oregon.
BUDDING AND GRAFTING NURSERY CROP PLANTS
R E Bir, T E Bilderbeck, T G Ranney
Grafting and budding are horticultural techniques used to join parts from two or more plants so that they appear to grow as a single plant. In grafting, the upper part (scion) of one plant grows on the root system (rootstock) of another plant. In the budding process, a bud is taken from one plant and grown on another.
Although budding is considered a modern art and science, grafting is not new. The practice of grafting can be traced back 4,000 years to ancient China and Mesopotamia. As early as 2,000 years ago, people recognized the incompatibility problems that may occur when grafting olives and other fruiting trees.
Since grafting and budding are asexual or vegetative methods of propagation, the new plant that grows from the scion or bud will be exactly like the plant it came from. These methods of plant reproduction are usually chosen because cuttings from the desired plant root poorly (or not at all). Also, these methods give the plant a certain characteristic of the rootstock - for example, hardiness, drought tolerance, or disease resistance. Since both methods require extensive knowledge of nursery crop species and their compatibility, grafting and budding are two techniques that are usually practiced only by more experienced nursery operators.
Most woody nursery plants can be grafted or budded, but both processes are labor intensive and require a great deal of skill. For these reasons they can be expensive and come with no guarantee of success. The nurseryman must therefore see in them a marked advantage over more convenient propagation techniques to justify the time and cost.
Clones or varieties within a species can usually be grafted or budded interchangeably. For example, Pink Sachet dogwood can be budded or grafted onto White Flowering dogwood rootstock and vice versa. Bradford pear can be grafted or budded onto Callery pear rootstock and vice versa. However, Pink Sachet dogwood cannot be grafted or budded onto Callery pear.
Grafting and budding can be performed only at very specific times when weather conditions and the physiological stage of plant growth are both optimum. The timing depends on the species and the technique used. For example, conditions are usually satisfactory in June for budding peaches, but August and early September are the best months to bud dogwoods. Conversely, flowering pears can be grafted while they are dormant (in December and January) or budded during July and August.
Reasons for Grafting and Budding
Budding and grafting may increase the productivity of certain horticultural crops because they make it possible to do the following things:
Change varieties or cultivars.
An older established orchard of fruiting trees may become obsolete as newer varieties or cultivars are developed. The newer varieties may offer improved insect or disease resistance, better drought tolerance, or higher yields. As long as the scion is compatible with the rootstock, the older orchard may be top worked using the improved variety or cultivar.
Optimize cross-pollination and pollination.
Certain fruit trees are not self-pollinating; they require pollination by a second fruit tree, usually of another variety. This process is known as cross-pollination. Portions of a tree or entire trees may be pollinated with the second variety to ensure fruit set. For example, some hollies are dioecious, meaning that a given plant has either male or female flowers but not both. To ensure good fruit set on the female (pistillate) plant, a male (staminate) plant must be growing nearby. Where this is not possible, the chances that cross-pollination will occur can be increased by grafting a scion from a male plant onto the female plant.
Take advantage of particular rootstocks.
Compared to the selected scion, certain rootstocks have superior growth habits, disease and insect resistance, and drought tolerance. For example, when used as rootstock for commercial apple varieties, the French crabapple (Malus sylvestris, Mill.) can increase resistance to crown gall and hairy root. Malling VIII and Malling IX are used as dwarfing rootstocks for apple trees when full-sized trees are not desired, such as in the home garden.
Benefit from interstocks.
An interstock can be particularly valuable when the scion and rootstock are incompatible. In such cases, an interstock that is compatible with both rootstock and scion is used. An interstock could increase the disease resistance or cold hardiness of the scion. Plants also may be double worked to impart dwarfness or influence flowering and fruiting of a scion.
Perpetuate clones.
Clones of numerous species of conifers cannot be economically reproduced from vegetative cuttings because the percentage of cuttings that root successfully is low. Many can be grafted, however, onto seedling rootstocks. Colorado blue spruce (Picea pungens, Engelm), Koster blue spruce (Picea pungens var. Kosteriana, Henry), and Moerheim spruce (Picea pungens var. Moerheimii, Rujis) are commonly grafted onto Norway spruce (Picea abies, Karst.) or Sitka spruce (Picea sitchensis, Carr.) rootstock to perpetuate desirable clones. Numerous clones of Japanese maple (Acer palmatum, Thunb.) that either root poorly or lack an extensive root system are grafted onto seedling Acer palmatum rootstock.
Produce certain plant forms.
Numerous horticultural plants owe their beauty to the fact that they are grafted or budded onto a standard, especially those that have a weeping or cascading form. Examples include weeping hemlock (Tsuga canadensi.3, Carr. var. pendula, Beissn.), which is grafted onto seedling hemlock rootstock (Tsuga canadensis, Carr.); weeping flowering cherry (Prunus subhietella var. pendula, Tanaka), which is grafted onto Mazzard cherry rootstock (Prunus avium, L.); and weeping dogwood (Cornus florida, L. var. pendula, Dipp.), which is grafted onto flowering dogwood rootstock (Cornus florida, L.). In most cases, multiple scions are grafted or budded 3 feet or higher on the main stem of the rootstock. When used this way, the rootstock is referred to as a standard. It may require staking for several years until the standard is large enough to support the cascading or weeping top.
Repair damaged plants.
Large trees or specimen plants can be damaged easily at or slightly above the soil line. The damage may be caused by maintenance equipment (such as lawn mowers, trenchers, or construction equipment), or by disease, rodents, or winter storms. The damage can often be repaired by planting several seedlings of the same species around the injured tree and grafting them above the injury. This procedure is referred to as inarching, approach grafting, or bridge grafting.
Increase the growth rate of seedlings.
The seedling progeny of many fruit and nut breeding programs, if left to develop naturally, may require 8 to 12 years to become fruitful. However, if these progeny are grafted onto established plants, the time required for them to flower and fruit is reduced dramatically. Another way to increase the growth rate of seedlings is to graft more than one seedling onto a mature plant. Using this procedure as a breeding tool saves time, space, and money.
Index viruses.
Many plants carry viruses, although the symptoms may not always be obvious or even visible. The presence or absence of the virus in the suspect plant can be confirmed by grafting scions from the plant onto another plant that is highly susceptible and will display prominent symptoms.
GRAFTING FAQ
Dr. William B Shell
When is the best time of the year to graft Japanese Maples?
The scion must be dormant, or nearly so; in late winter or in summer when the scion has hardened off (no active growth at the tip).
What is rootstock? Does it matter what rootstock you use?
Rootstock is the rooted part of the graft to which the scion is grafted. The scion and the rootstock must be compatible. Acer palmatum rootstock is best used with Acer palamtum scions. Acer palmatum is also compatible with Acer japonicum but not with Acer bergeriamum
What is cambium?
Cambium is the growing part of the tree. It is located on the outer edge of the tree. The inner cells of the cambium produce the woody part of the tree, while the outer cells of the cambium form the bark. The woody part of the tree is for support. The cambium contains the tubes which conduct the nutrients up from the soil (xylem tubes) and the phloem tubes which conduct the manufactured food downward. If you girdle a tree, you interrupt this flow and the tree dies.
What is grafting?
Grafting is joining the cambium layers of the rootstock to the cambium layers of the scion for some length of time. The graft heals (calluses) and the scion is then fed by the roots of the rootstock. The cambium layers of Japanese maples are very thin and much care must be taken when preparing the cuts so the cambium layers will not be damaged. A sharp grafting tool is absolutely essential.
Can you recommend a grafting knife?
I use the Tina 605, for righthanders. It is made out of special metals that will hold an edge. One side is flat and the other side is slanted about 23 degrees. I strop it after every twenty cuts or so. Vertrees used a single edge razor blade, which I do not recommend. I find it is much more difficult for me to control. What ever you use, it must be kept extremely sharp. One of the biggest causes for graft failure is damaged cambium.
Does the scion have to be the same diameter as the rootstock?
In an ideal world it would be nice if the scion were the same size as the rootstock, but that is seldom the case. After I make my cuts, I align the left side of the scion with the left side of the rootstock. I hold them in place with a grafting rubber until healing takes place. If the cambium layers are not touching, then no successful graft will take place. Care must be taken in wrapping the graft so as not to squeeze the cambium layers too tightly together, just tight enough to hold the layers together until healing occurs.
How long can you leave scions in the refrigerator?
I have left them in the frige for two months and made successful grafts. I don't recommend leaving them in the frige any longer than necessary. I place them in the frige in a damp paper towel with just a hint of fungicide and place the towel in a zip lock bag. I try to remember to label.
When is the best time to collect Japanese maple seed? I collect Japanese maple seed (samara) just as the wings begin to turn brown in the fall. I prefer to not let them dry out. I place them in an equal volume of moist peat/perlite in a zip lock bag with a hint of fungicide for sixty-ninety days in the frige. As they germinate I plant them in 4 inch pots. If your seeds are dry, soak them in warm water for 48 hours and then treat them as above.
Can Japanese maples be grown from cuttings?
Yes. It seems most of the time the plant doesn't do as well on its own roots as when it is grafted. However, Bloodgood seems to do quite well. Give it a try.
Can Japanese maples be air layered?
Yes, but most of the time, you will have a stronger plant if it is grafted. Never be afraid to give it a try!
What is the best size rootstock to use for grafting?
I like for my rootstock to have a caliper of about 1/4 inch. Of course you can graft on smaller rootstock as well as larger. Remember, sharp knife and align the cambium layers!
When should the bag be removed that is covering the graft?
Be sure the graft has taken (callused) before removing the bag. I check after two weeks, and if the graft looks good , I wait another week and then loosen the tie to allow air to flow into the bag and then two days later I remove the bag. Sometimes it takes six weeks or longer for the graft to callus. Unfortunately, sometimes never. If the scion starts turning brown and drying out, be assured the graft has failed. Don't be alarmed! As your grafting skill improves, so will your percentage of successful grafts.
Can Acer buergerianum be grafted to Acer palmatum?
No. They are not compatible. However, Acer palmatum cultivar scions can be grafted to Acer japonicum rootstock and vice versa.
Is there any rooting compound or chemical that you can dip your scion in that will enhance your grafting.
Not any I have found or read about.
When should the top part of the rootstock be removed?
The rootstock above the graft should be removed as soon as the graft has taken well. I remove my rootstock tops after leaves begin to form on the scion.
When should the rubber strap be removed?
I do not remove the rubber strap. It deteriorates after a few weeks. This is not the case if you are not using straps made especially for grafting. If for some reason you are using straight rubber bands, then remove them after the graft has taken. I purchase my rubber straps from amleo.com.
I have difficulty aligning my cambium layers. Any suggestions??
I have begun using a "mageyes #5" head attached magnfying glass and it has helped tremendously. I use it to make all my cuts and to align the cambium layers. You can find it at mageyes.com
I placed Japamese maple seed in the frige in November in moist peat and a zip-lock bag. I just noticed some of the seed are sprouting here in February. Should I pot them?
By all means. Pot in good potting mix with good drainage, with not to much fertilizer.
© 2002 Dr. William B Shell. All Rights Reserved.
NOTES ON SUMMER GRAFTING
The previous articles on grafting Japanese maples have covered operations carried out whilst understocks are dormant. The associated costs in providing warmth during the winter, if not already available in the form of a heated greenhouse etc, can be a disadvantage if you are grafting only a few plants. Summer grafting, by contrast, requires only that the resultant grafts be kept relatively cool.
The technique is identical to that illustrated in the slideshow as a side veneer graft is probably the easiest to produce. Collection of scion wood can begin, depending on your growing season, as early as the beginning of July and last until mid August. Diverging from Harold Johnston's technicue, all leaves are removed from the scions prior to grafting and no plastic bags are used to cover the graft. In addition, the understock is not cut back but left to grow on. The plant is then placed in a cool, shady position whilst the graft calluses to avoid drying out. A daytime temperature of about 65 deg. F is recommended. Once callusing of the graft is observed (typically within two to three weeks), plants can then be exposed to more light and natural heat.
The reason for the above is to make sure the scion does not come into growth before the plant goes dormant. The growing season for the scion is overwise going to be short and new shoots may not have time to fully ripen before going dormant. By not cutting the understock back the plant is allowed to continue building up strength in it's root system. Cutting back during growth can be a shock to the plant, particularly for the small sizes used in grafting. The success or failure of a graft is almost entirely dependant on the quality of the root system and where that cannot be guaranteed it's best to err on the side of caution.
The understock is eventually cut back as close as possible above the graft once the plant is fully dormant and the resultant growth the following spring will be more vigorous than if the understock was trimmed back whilst still in growth.
One aspect of grafting that is often mentioned in articles on techniques is the need to 'condition' the understock. This requires that the understock is partially dried out to prevent the union from being 'flooded' by excessive sap flow. The whole point of sap flow is to ensure the cells of the cambium layer remain alive so that they can callus and any excessive amount of sap will drip away. A problem is only going to occur if the graft is completely sealed and the pressure from a build-up of sap dislodges the mating surfaces. As can be seen from the tying in the slideshow you will be unable to produce a 100% seal and neither is it recommended.
There is one other additional method of summer grafting Japanese maples that can be employed and this is now illustrated by a slideshow. Although greater accuracy than that needed for side veneer grafting is required, it does have the advantage of groducing a far neater graft.
Grafting Aids
Bud Guides
One of those small pieces of equipment that you don't think about until afterwards when you realise how handy it would have been! When buds break, they come out at an angle and although the resulting shoot will normally be tied in to a cane to keep it upright, the union with the understock will often result in a dog-leg. Bud guides, on the other hand, will ensure the new shoot grows straight up at the point of union. The two illustarations below show the difference that bud guides can make. The photo on the left shows a whip and tongue graft of a pear with the resultant growth from the scion growing out at an angle, which for a single stemmed plant, is not best practice. The plant on the right was given a bud guide and subsequent growth is far neater with the wood callusing over the top of the trimmed back understock. In a few years this will give the appearance of a single growth whilst the plant on the left will continue to exhibit a dog-leg for many years to come.
Commercially available bud guides are usually made from moulded plastic that clip onto the understock with a shield that covers the bud to make it grow straight up. The illustration below shows one particular type available in different sizes.
Perfectly adequate guides can be made from material that is probably already at hand such as thin wall copper pipe or bamboo canes. The pipe or cane should be about three inches long and split down the middle lengthways. If using copper pipe file down all sharp edges and corners so that it doesn't cut into the bark. The copper pipe can be manipulated to make it a reasonably snug fit against the understock whilst a bamboo cane will provide a range of diameters from just one cane. The guide should be placed over the bud with the top one inch above the bud and tied in below the bud with a twist-grip. Keep the twist on the guide side so that you don't mark the bark. The sequence of pictures below show the procedure.
In this instance, electrical insulation tape was used to hold the guide, this one from copper tube, securely in position; it is also extremely difficult to remove!
Once the shoot has made about six inches the guide can be removed and the shoot tied in to a cane to keep it upright. Any excess wood at the growing point can be trimmed back in the winter.
Budding and Grafting Knives
As with all tools, try to buy the best you can afford: you get what you pay for and a quality grafting knife should last a lifetime. Although there are cheaper brands on the market, the best by far are made by Tina. Alternative knives will often have a stainless steel blade; fine if you are in the habit of leaving your knife in water but they will not hold a razor-sharp edge. The 605 model, although primarily a grafting knife, is suitable for both budding and grafting. Dedicated budding knives have either an extended bulge on the top of the blade for lifting bark or a bark lifter at the back of the handle. The operation can be achieved easily enough by using the back of the blade tip. The blade of the 605 is bevelled on one side only and can be obtained for left- or right-hand operation. The advantage of using a one-sided blade is the ability to make straight cuts whereas a two sided blade requires more control to stop the cut wandering. My own knife, with diamond and traditional whetstones and illustrated in the sharpening section, is a CK model bought about fifteen years ago after I dropped my previous knife, made by Sayner and in the opinion of many professionals superior even to Tina, onto a concrete floor and broke the tip. The only criticism of my current knife is the slightly blunt end which is not ideal for the summer grafting method I have described in the Propagation section. By contrast, the Tina knife has a much slimmer tip making it ideal for more precise work.
On the subject of Sayner, if any reader has information regarding this company it would be much appreciated if they could get in touch as the last mention I have of them is over ten years ago.
Mention should also be made here of one other type of knife that is sometimes used, predominantly by Japanese nurserymen. The laminated knife is produced by sandwiching a strip of high carbon steel between two layers of soft iron to produce a knife of superb sharpness but unconventional design. The core metal is of extreme hardness, considerably more so than the traditional knife, but because of this it is also extremely brittle with little or no flexibility. The soft iron that it is layered with gives protection and provides robustness without which it would be unusable as a working knife. Because of the method of construction the knives are made as strips about six or seven inches long, an inch or so wide and about an eighth of an inch thick. The size is not fixed and as they are made by hand any size or specification can be accommodated according to the buyers wishes The handle is the strip itself and the cutting edge is one end cut at an angle and finished with a bevel. In use, the knife behaves as any other single sided grafting knife except that the whole knife is moved at an angle so that one side of the bevel then becomes the flat side of a conventional knife. It takes a bit of practice getting used to the difference and for that reason is probably best suited to those propagators who already have some experience. However, if this is the only type of knife you've ever known then it is ideal for beginners! I will put a photograph up shortly to better illustate it.
Co-incidentally, this method of construction, when applied to conventional knives such as those for the kitchen, produces a tool of outstanding quality; the ability to hold an edge almost indefinately and able to turn the toughest cut into something more akin to butter! The cost, when obtained directly from the master craftsmen in Japan who produce them, compares very favourably with expensive and fashionable French and German knives.
Secateurs
The maxim that you should buy the best you can afford in terms of quality apply equally to secateurs and Felco stand head and shoulders above the competition. My first garden required extensive clearance and I bought a Felco no.2. Now 32 years old, they still work perfectly and are probably good for another 32 years. They also have the advantage of an adjustable and removable blade if sharpening is required.
Although it seems obvious, your tools should be reserved only for the jobs they were designed to do. It's an easy temptation to grab your grafting knife or secateurs to slice open a cardboard box or cut through some string or plastic binding tape. Use a craft knife or scissors! And never lend them to anyone as you don't know in what condition they're going to come back in.
Of the two types of cutting action, side cut and anvil, the former should be used as bruising is only applied to one side of the cut. If this is on the scion it can be trimmed away when the scion is prepared for grafting.
Incidentally, it's an old wives tale that you should cut as close as possible to a bud or dieback may result. Above each bud are cells specifically designed to seal off the cambium layer in the event of damage of any kind happening to the shoot and collecting scion wood is a form of damage. The cambium will start to callus over straight away and if you cut one or two inches away from the bud, callusing will still occur right next to the bud rather than where the cut was made. The subject of pruning will of course be covered in comprehensive detail and illustrated in the forthcoming cultivation guide. For those of you who enjoy popping bubblewrap, snapping off the dead ends of twigs is equally enjoyable!
One type of tool that has been promoted heavily in recent years is the ratchet action secateurs that allow greater cutting force for less grip. For dealing with the caliper diameter of the wood that propagators are going to encounter, this type is over engineered and also suffer from the rachet mechanism wearing out over time. For dealing with larger shoots and branches long handled loppers or pruners are more suited to the purpose and removes the temptation of using your secateurs as a jack of all tools.
Sharpening
My own preference is for the traditional whetstone and the one in the illustration below is a Japanese product with a 1000 grit stone sandwiched to a 6000 grit stone for course shaping and fine sharpening respectively. This was bought about 25 years ago and is showing signs of wear and tear on the corners and gouging on the surface when I don't get the angle right. From time to time the surface is 're-dressed' by a local engineering firm using a diamond linisher to get rid of surface blemishes. The width of the stone is less than the length of the knife blade so the knife is held at an angle to the axis of the stone rather than at right-angles and alternating between a 10 to 4 position and a 20 to 2 position if you can visualise the hands of a clock. The angles used can be seen in the surface of the stone, indicating that it is in need of an urgent 'dressing'! The whole length of the blade should be sharpened at once rather than a slicing motion as you sharpen; the straight edge of the blade needs to be kept dead straight as even the tiniest of indentations in the edge will affect the ability of the knife to cut smoothly. The knife should be sharper than a razor; it's easier to cut yourself with a blunt knife than a sharp one.
A good test for sharpness is to hold the edge of a newspaper and balance the knife handle on the finger of your other hand with the blade resting on the edge of the paper. When drawn across the paper it should slice through it without any pressure. I'll take a picture of the procedure and put it up here soon; it will probably be easier to follow. Another measure of sharpness, although I don't know if it was a trick by the props department, was demonstrated by a scene in the film 'The Bodyguard', recently shown on television in the UK. Our hero, who happens to have a sword pointed at his chest, removes the silk scarf from the neck of Whitney Houston, throws it up in the air and as it falls on the blade is neatly sliced it two. Japanese sword-makers will routinely finish off blades with a 12000 grit stone so perhaps it really did happen. From a cost point of view it's probably cheaper to stick to paper!
In recent years diamond whetstones have become popular as they don't require the maintenance of a traditional stone and models are available that come with sharpening guides that remove the guesswork in trying to keep to a particular angle. For these stones a guide is highly recommended as it is all too easy to abrade the tips of your fingers on the edges of the stone. As to what angle you should aim for, try to keep to the manufacturers original angle but the exact angle on an older knife is not critical and anything between 20 and 25 degrees is acceptable.
For stropping your knife between sharpening you can take the luxury route with a proper barber's leather strop or just use the thigh of your trousers! If they are made of a fairly coarse cloth the end result will be just as good. Unlike sharpening, where the edge of the blade is moved against the stone, stropping should be done with the edge of the blade trailing. Both sides, even for a single sided knife, should be worked in a backwards and forwards motion. The other way round will be very bad for your health!
A point I forgot to mention in the original text above is the need to immobilise the stone when in use. Although excessive pressure is unnecessary, from a safety point of view it is probably best if the stone and knife are prevented from going off at an angle if the knife should catch. A simple solution is a wooden stop that you might remember from woodwork classes at school, a drawing of which is included below.
A piece of timber perhaps six by nine inches has battens fixed at each end on opposite sides and in use one end is hooked over the edge of the table or worktop and the stone is held against the other end to prevent it from moving away.
Another point omitted is the need to clean the stone after each use. Putting under running water and gently scrubbing with a nailbrush or toothbrush will remove the fine sludge that is produced with each sharpening. Left to build up this will clog the surface and eventually reduce the efficiency of the stone.
Links
Broyeurs Vegetaux
A thorough french site about garden shredders (broyeur de vegetaux in French) giving excellent advice on how to choose your machine to reduce the volume of your green waste and shred the branches and leaves resulting in the taking care of your garden.
The Maple Society For everyone with an interest in Japanese maples. An informative quarterly newsletter, a seed distribution list and a programme of talks and visits are among the many benefits of joining. An application form for membership can be obtained from: P.R.B. Brooks, White Owl Cottage, Trerulefoot, Saltash, Cornwall PL12 5DA
Alternatively, a membership form can be downloaded from their website at http://www.maplesociety.org/
JapanGarden
Offering only the finest high quality and authentic Japanese products available. A comprehensive range of everything for the Japanese influenced garden and home and highly recommended. www.japangarden.co.uk
PlantMall
A wide ranging catalogue of nurseries, societies and horticultural sites. www.plantmall.co.uk
Grow
A comprehensive database covering gardening, retail and wholesale suppliers and the landscape industry. www.grow.co.uk
Debbys Garden Links
A very catholic range of links that touches on all aspects of gardening and well worth visiting. www.debbysgardenlinks.co.uk
The following two Japanese sites have a wealth of information in English on maples and Japanese plants in general. There are also numerous links that with a few clicks will take you deep into everything Japanese. Don't worry if your Kanji is a little rusty; just dive in and prepare to be amazed by sites you didn't know even existed!
Maples and Japanese culture
A site owned by Hajime Hayasida covering not only Japanese maple species and cultivars but the genus as a whole. Also included are excellent illustrations of maples in the wild as well as spectacular autumn colour scenes. http://homepage2.nifty.com/chigyoraku/Etop11.html
Plants and Japan
An introduction to plants in Japan covering subjects as diverse as native orchids, bonsai and camellias, temple gardens and traditional garden design, parks and private gardens and much more. A highly recommended site from Masuchi Yamaguchi.
http://homepage3.nifty.com/plantsandjapan/index.html